If you're looking to buy land to build a new home, the good news is there's plenty of new land developments around most of our major cities.
The main perk of buying land is being able to build a brand new home that suits your needs. Instead of inheriting structural elements, you can pick a builder and choose the floor plan, layout and kitchen aesthetic that you want.
Building may also be particularly attractive to first home buyers who, depending on their state, can claim grants and concessions on new builds.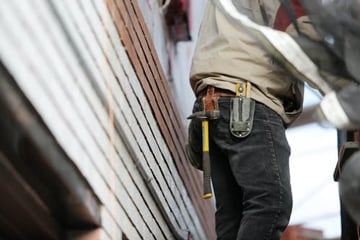 Building allows you to plan and create your dream home. Picture: Pexels
However, Paula Hyde, a RAMS Home Loan Specialist in Brisbane Central North, warns that those buying in the current market will certainly need to tick one financial box before starting their search.
"It is paramount that you have your finance pre-approval in place before you go property shopping to ensure you know your borrowing capacity and are in a position to negotiate on price where needed," she advises.
"In such a competitive market, you may not be taken as seriously by some agents or vendors if you haven't done you due diligence first."
Once you've got your finances ready, it's time to start the hunt. Using data from realestate.com.au, we round up some of the most searched-for areas across the country – in regards to land estates – between June 2020 and May 2021. Here's where you're looking…
Box Hill, NSW
This fast-growing area on the outskirts of Sydney is in high demand, but it still has plenty of empty lots for sale – and some are still to be released.
Box Hill is in the Hills District and sits right on the edge of north-west Greater Sydney, right before you nudge into the Hawkesbury and Blue Mountains regions. While Box Hill seems likely to evolve into suburbia akin to its neighbour Rouse Hill, it currently straddles the line between urban and rural life due to its bush-adjacent locale.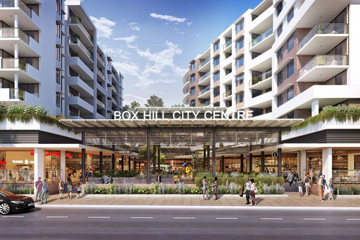 An illustration of the proposed Box Hill city centre. Picture: realestate.com.au/buy
Demand in Box Hill has been high so far, with some buyers even camping out overnight to secure newly released lots.
Median house prices in Box Hill are currently $580k, however this figure may soon be pulled upwards by a newly finished mansion which recently sold for $2.31 million!
Tarneit, VIC
Tarneit sits about 30km from the CBD on Melbourne's outer western rim. The former agricultural area is among a throng of other developing suburbs, like Werribee and Truganina.
Tarneit has been a popular destination for families, particularly those buying their first home. Thanks to its affordability, it suits those looking for a fairly large family home that is still a commutable distance to the city.
Estates in this area are focused on providing a full family experience, with plenty of green space, wetlands, walking tracks, and epic playgrounds. There are also new school developments and pushes for increased public transport.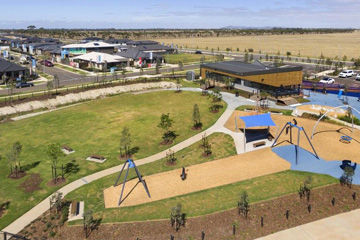 Life at The Grove estate by Stockland in Tarneit. Picture: realestate.com.au/buy
The median house price in Tarneit is currently $580,000 and has been steadily rising over the past five years. While more expensive than its neighbour to the south, Hoppers Crossing, Tarneit remains slightly more affordable than Truganina to its east.
White Rock, QLD
Located in the Ipswich area, White Rock may not seem like the first place one would search for a land development in Queensland. The suburb is largely covered by a nature reserve and, in the 2016 census, the suburb recorded a population of… three people!
However, this won't last for long with a hotly anticipated new development.
The Whiterock development sits at the edge of the 2500 hectare White Rock-Spring Mountain Conservation Estate, with plenty of bushland hiking and natural offerings to enjoy. The development itself hopes not to impact too much on the area's resources with a few sustainability targets of its own, including 7-star rated energy efficient homes.
Whiterock is largely aimed at young families, featuring a leisure-packed village and playground areas. A public primary school is also being proposed for the suburb.
Lots are currently for sale, with the 200th sold to a young couple in April this year.
Victoria Park, WA
Finally, while there's not a whole lot of land left in Victoria Park, many are still holding out hope, which is perhaps why this suburb has shot to the top of the most-searched areas for land development in Western Australia.
Just across the river from the CBD, Victoria Park offers an ideal combination of city and suburban living, for a fairly reasonable price tag ($688,000 is the average house price). It may offer the best lifestyle for foodies, with plenty of cafes, bars and restaurants jam packed into the Albany Highway strip.
While the ship may have sailed on empty land in Victoria Park, you may have a fighting chance in East Victoria Park, where new developments are currently in the works.
This article originally appeared on realestate.com.au as 'The most in demand new land areas'