With skyrocketing rents and eye-wateringly low vacancy rates, it's not a great time to be a renter. But it could be a superb time to be a property investor.

Tenant demand is high, rental prices are on the rise, so properties are unlikely to be sitting empty. Yet investors have been noticeably absent from the market.

The value of investor lending for housing in February was down 32.6% over the year, according to Australian Bureau of Statistics data. Overall lending for housing was down 30.9%.

PropTrack economist Angus Moore says interest rates have been the biggest deterrent, with investors smashed by reduced borrowing capacity and higher mortgage repayments like everyone else.

"Investing in property is certainly a lot more expensive than it was 18 months ago. We actually saw more investors selling than buying during the pandemic," he said.

Knight Frank's head of residential research Michelle Ciesielski said last year was a tough time for investors.

"Many saw their overall wealth taper back following falling residential prices. Also, there hasn't been a huge array of investment property options for investors to purchase with an attractive price discount incentive, given the low number of property listings and limited new homes to buy."
Opportunity for investors to cash in
But the time could be now, experts say, with capital city vacancy rates still falling and rental prices still rising, and while housing supply is low and population growth is high.

A vacancy rate of 3% is considered optimal as a market balance between tenants and owners, but capital cities registered a rate of just 1.43% in March 2023, down 55% from March 2020 and down 0.66% from March 2022, according to PropTrack data.

Parts of Sydney and Melbourne saw the sharpest quarterly declines, while Perth, Adelaide, Hobart, the ACT and the regions showed marginal increases.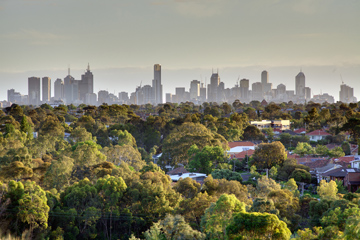 Picture: Getty Images
Overseas arrivals are expected to squeeze the market tighter, with 303,700 people moving to our shores in the year ending 30 September 2022, according to the ABS — and a higher proportion of them than the average population likely to have sought rental accommodation.

Meanwhile, advertised rental prices on realestate.com.au rose 2% nationally over the first quarter of 2023 to a median of $500 per week, an increase of 11.1% over the past year and the fastest rate of rent growth since well before the pandemic.

The trends are expected to continue, Mr Moore said.

"We're seeing rents grow extremely quickly across the country, given how tight rental markets are and how competitive it is. "The only long-term solution is building more homes. And it's more investors buying those homes."
Investor demand tipped to increase
Warren Hogan, an economic advisor to Judo Bank, says the current rental crisis will likely motivate more investors to jump in. "We know that there's a supply squeeze coming and that the population numbers are there. Rents will keep going up, rental yields will keep going up, prices won't fall much further and will probably start to rise. "This is a great time to be looking to get into the market for a long-term investment."

It seems some investors are in agreement.

While they may be borrowing less, their share of all borrower-accepted loans is rising.

In February 2023, investors accounted for 33.7%, up from 24.2% in February 2021 and 27.3% in February 2020, according to the ABS.
Mr Moore said this is a clear change from during the pandemic, when investors were "much less involved in the market". "They are adding more rental properties to the rental market, but it's a slow process."

He expects "reasonably strong investor activity over the next 12 to 18 months", as a share of total housing activity — not just because of rent rises and falling vacancy rates but also because of increasing certainty around interest rates, which indicates potential for market stabilisation and price gain.

Certainly, rising demand is already starting to push prices skywards again.

The PropTrack Home Price Index for April revealed property prices across Australia were up 0.14% over the month, while prices in capital cities increased 0.20%. Nationally, home prices have now risen for four consecutive months.
The best opportunities for investors
When it comes to value, Mr Moore and Mr Hogan agree apartments are currently a better option than houses.
"We saw the prices for detached houses grow very quickly across the pandemic and unit prices also grew but not as much," Mr Moore said. "In relative terms, they look quite attractive and investors tend to favour apartments."

Mr Hogan said the price dips in Sydney and Melbourne have "supercharged" rental yields, which rely not only on rents going up but purchasing prices coming down.

"The analytics from a macroeconomic and market point of view say that those apartment markets in the major east coast capitals are the only housing markets that aren't massively overvalued."

This article was originally published on realestate.com.au 'A great time' for investors, so where are they?'
Things you should know:

This information is general in nature and has been prepared without taking your objectives, needs and overall financial situation into account. For this reason, you should consider the appropriateness for the information to your own circumstances and, if necessary, seek appropriate professional advice.